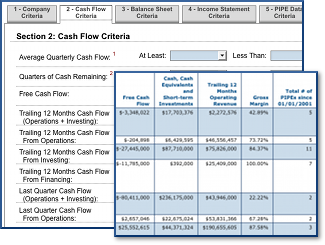 Investors use PrivateRaise to research deal structures, compare terms and create optimal pricing for their transactions. Whether screening for deal candidates, researching comparables, or analyzing stock performance and trading patterns, PrivateRaise is a must-have for active investors.
Maximize Your Investment Returns
View over 15,000 in-depth placement profiles of PIPEs, 144As and SPAC transactions. Using over 50 criteria, you can quickly find comparables and term sheets of recent deals to compare investment structures, terms, and pricing. View hundreds of industry statistics tables and gain insight into recent trends in sectors, deal structures, and more.
Find Deal Targets & Generate More Business
Screen for PIPE candidates and active advisors in your areas of focus.
Use our PIPEscreener tool to target companies in need of capital based upon their cash flow, balance sheet, and income statement criteria. Include their recent deal history and shelf registrations.
Also, use our customized league tables to target new relationships with advisors representing the companies you want to meet.
Try a FREE 2-Week DEMO Membership or call us at 1-888-667-3325 to learn more.