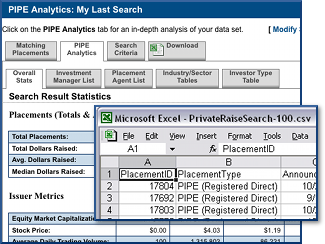 Whether it's researching deal structures or conducting a valuation analysis, PrivateRaise is a must-have for accountants and valuation experts. We can create a customized solution to meet the needs of any project that involves accounting, securities analysis, or a valuation opinion. We maintain the largest database of restricted securities and warrants available – stop using outdated pricing information that's unreliable.
Deal Pricing & Securities Valuation
View over 15,000 in-depth placement profiles of PIPEs, 144As and SPAC transactions. Using over 50 criteria, you can quickly find comparables and term sheets of recent deals to compare investment structures, terms, and pricing.
We maintain the largest database of restricted securities and warrants available – complete with pricing and transaction specifics.
Find Prospective Clients
Use the PrivateRaise online directories to access profiles of over 28,000 industry professionals. Whether you're looking for companies or funds, PrivateRaise will point you in the right direction.
Search for clients using a combination of over 40 financial and fundamental data points to determine which companies need to raise capital and which companies rely on specific advisors to assist in everything from individual transactions to ongoing reporting and compliance.
Get contact information and a complete history of investment preferences in a matter of minutes. Our directories are updated daily and contain the most comprehensive information available.
Work with our Research Staff on Your Custom Project
Whether you use our online tools or you rely on us to help conduct your research, we will save you the time and expense of aggregating and analyzing information.
Quickly find what you need without having to sift through hundreds of pages of legal documents or outdated pricing information. We make it easy and cost-effective.
Try a FREE 2-Week DEMO Membership or call us at 1-888-667-3325 to learn more.