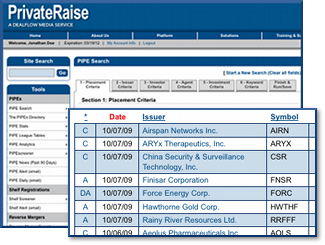 Investors use PrivateRaise to research deal structures, compare terms and create optimal pricing for their transactions. Whether screening for deal candidates, researching comparables, or analyzing stock performance and trading patterns, PrivateRaise is a must-have for active investors.
Maximize Your Investment Returns
View over 15,000 in-depth placement profiles of PIPEs, 144As, Reverse Mergers, and SPAC transactions. Using over 50 criteria, you can quickly find comparables and term sheets of recent deals to compare investment structures, terms, and pricing. View hundreds of industry statistics tables and gain insight into recent trends in sectors, deal structures, and more.
Benefit from a Powerful Networking Tool
Use the online directories to access profiles of over 28,000 industry professionals. Find and maintain important relationships with the bankers marketing the deals meeting your investment criteria.
Find contact information and deal history of investment bankers and issuers in a matter of minutes. Then use this information to cross-reference which funds invest in deals that are managed by specific investment bankers.
The PrivateRaise directories are updated daily and contain the most comprehensive information available.
Work with our Knowledgeable Research Staff
Whether you use our online tools or you rely on us to help conduct your research, PrivateRaise saves you the time and expense of aggregating information.
Quickly find comparables and view deals without having to sift through hundreds of pages of SEC filings and legal documents. We make it easy and cost-effective.
Find Deal Targets & Generate More Business
Stay informed of all the deal activity throughout the day, including announcements of new deals, pricing and closing of previously announced deals, filing and effectiveness of shelf registration statements, and more.
Screen for PIPE candidatesusing a combination of over 40 financial and fundamental data points to determine which companies need to raise capital. Set up customized email alerts for instant notification of recent corporate events.
Call us at (516) 876-8011 to learn more.