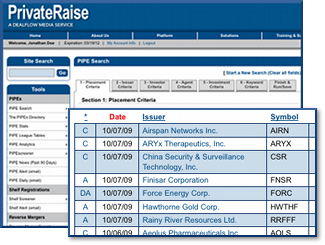 Public companies use PrivateRaise to get their deal done – plain and simple. From comparing investment terms to finding the right advisors to assist in a PIPE transaction, we offer a solution geared for issuers.
By combining comprehensive information with easy-to-use tools, PrivateRaise is a must-have for companies looking to complete a PIPE transaction.
Get Your Deal Done
Look up detailed profiles of over 28,000 industry professionals, including placement agents, investors, and law firms. Find the right professional to help your company.
You'll find answers to questions like: Who is the most active PIPE investor in the healthcare sector? What kind of cash fees should my placement agent collect? Which law firm has experience with a particular deal structure?
Gather Market Intelligence to Raise Capital
Using over 50 criteria, you can quickly find "comps" and term sheets of recent deals to compare investment structures, terms, and pricing. View hundreds of industry statistics tables and gain insight into recent trends in sectors, deal structures, and much more.
Save Time and Money
Use built-in tools and Excel downloading to perform deal research in a fraction of the time it would take to aggregate the information yourself.
Quickly find comparables and view deal summaries without having to sift through hundreds of pages of SEC filings and legal documents.
Leverage the PrivateRaise research team to find answers to questions like: What is the average discount of common stock sold in PIPEs? How much warrant coverage is customary in convertible debenture transactions?
Call us at (516) 876-8011 to learn more.